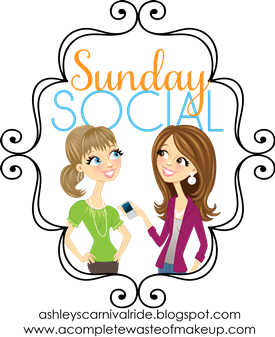 Jumping in on today the Sunday social. Linking up with http://ashleyscarnivalride.blogspot.com/ (Ashley)
&
http://acompletewasteofmakeup.com/ (Neely)
Question

1:
What is currently on your wish list?
well I guess my list is not too lengthy ..lol
1. A blender ( i am seeing so many green smoothies I just have to try one)
2. Web Cam ( I am dying to try volging)
3. Lots of Yarn ( I have the crochet bug and am crocheting like crazy)
4. Self heal cutting mat W/ rotary cutter (I do so many crafts I really need one)
5. Followers for my Blog!!!
Question 2:
Share a new iphone, droid, ipad app you have recently discovered that we all need.
ok I have to confess all I have is a android tablet. It is not the best and it only stays charges for a little over 30 mins but it gets me by

until

I can afford something better. and my cell phone is just a regular cell phone *fingers crossed * hope to get a touch phone in January.
So the only app I use

regularly

on my android is the cool reader app which I love to read my ebooks on.
Question 3:
What is a new fall TV show you have added to your DVR?
1.

E

lementary ( I am a big Sherlock fan

)
2. New Girl (I still think Jess and Nick should hook up)
Question 4:
Share your Social Media links for us to follow you on(pinterest, twitter, facebook, etc). Tell us which is your favorite and why.
You can find so many helpful pins there and if you have a small business like I do, word of mouth seems to fly faster there. However Twitter is not bad either and would be a close second.
Follow @WildIvy34
Facebook:
http://www.facebook.com/wildivydesigns
Question 5:
What is a TV show or movie or song you could listen to or watch over and over and over and never get tired of...feel free to name one of each!
TV Show: That one is hard, but Gilmore Girls probably I loved that show
Movie: Practical Magic or League of extraordinary gentlemen
Song: Ummm There are so many right now Seether Country Song
http://www.youtube.com/watch?v=4NMxwbn_QoU&feature=colike
Thank you ladies for the chance to participate in your Sunday Social!!